Changing regulation has enabled access to a broader pool of investors for businesses looking to raise money.
You can now reach a broader audience with your need to raise money. Platforms like the ones we cover help you to raise money while complying with the legal regulations.
Do you want to give up Equity/Ownership?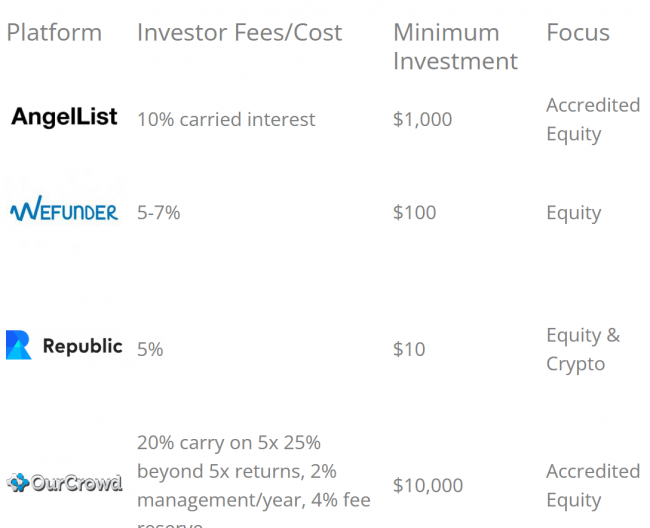 Interested in Debt/Loans?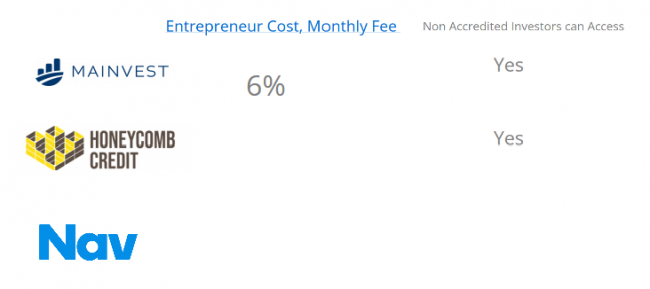 More Detail on the differences between Equity and Debt
Advice for Raising Capital from the Experts
Looking for Additional Services?
Accounting/Invoicing/Legal
Create and send professional looking invoices in less than 30 seconds.
Set up online payments with just a couple of clicks and get paid up to 4 days faster.
See when your client has seen your invoice and put an end to the guessing games.
Legal
Looking for legal assistance? Check out our list of attorneys and law firms and Additional info on Term sheets
| Platform | Investor Fees/Cost | Minimum Investment | Focus | Due Diligence |
| --- | --- | --- | --- | --- |
| | 5-7% | $100 | Equity | Minimum as required by law. You are responsible for conducting your own due diligence. |
| | 5% | $10 | Equity & Crypto | Less than 5% acceptance rate. They review the pitch deck, conduct screening calls, and complete independent research. |
| | 10% carried interest | $1,000 | Accredited Equity | |
| | 20% carry on 5x 25% beyond 5x returns, 2% management/year, 4% fee reserve | $10,000 | Accredited Equity | 1-2% of companies make it through the reviews & selection process. |
| | 7% | $100 | Equity | Minimum required checks by regulators like background checks. |
| | | $100 | Real Estate | |
| | free | $5,000 | | |
| | Transaction fee of 2.85% of your total investment but will not exceed $37.25 | $100 | Debt | |
| | | $1,000 | CPG Equity | |
| | | $100 | Debt | They note they conduct background checks on the issuer and its principals, and ensure a reasonable basis for believing... |
| | | $10,000 | | Relationship with Crowdcheck. Investors are solely responsible for conducting any legal, accounting or due diligence... |
| | 0.5% per transaction | $0 | Crypto | Token Sale Manager process which we assume should create a high bar to be able to list a project/token. tied to the $20k... |
| | 2% | $500 | Equity & Crypto | ~1% of startups that apply by employing its own due diligence process so you get only highly vetted startups. "In the... |
| | 5% + 10% Carried interest | $100 | Equity | Less than 0.5% of companies who apply get listed. This process of company vetting saves you time. The average amount of... |
| | 10% Carried Interest | $3,000 | | 1-2% of companies are selected. |
| | 0% | $1,000 | Equity & Rewards | |
| | | $250 | Equity | Minimum required by law. |
| | | $100,000 | | |
| | 0 | $99 | | They employ the minimum checks, curation, or due diligence of the investment offerings required by law. You must rely on... |
| | 0% | $250 | Agriculture Equity | |
| | 2% Management Fee, 20% Carried Interest on returns up to 5x, 25% on anything above | | | |
| | 0 | $100 | Equity | |
| | | $50,000 | IPO, Direct Listings | |
| | | $1,000 | | They perform minimum required vetting to list an offering. |
| | | $100 | | 3% of businesses get listed to pass NextSeed's objective diligence criteria to launch an offering on the platform. More... |
| | | $0 | | |
| | 2% - min $3.50, max $75 | $100 | | |
| | | $200 | Cannabis Equity | |
| | 2% platform fee. Syndicate Investments one-time 7.5% platform fee & 10% carry | $5,000 | | adheres to the minimum FINRA guidelines on conducting due diligence. |
| | | $200 | | |
| | | | | |
| | 0 | $10 | Retail Investor | SMBX analyzes the financial history to review the profitability. They employ an underwriting team to do this... |
| | fixed $10 flat and no set % | $100 | | Minimum as required by law. |
| | | $25 | Retail Investor | |
| | | $250 | | |
| | 0 | $100 | | |
| | | $100 | Real Estate | |
| | | | | |
| | | | Real Estate | |
| | | | | |