Rate and Review Equity Funding Platforms
2022 Analysis, Comparisons, Pros & Cons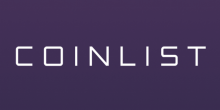 Target Investment:
Crypto
Open to :
Non Accredited Investors
Entrepreneur Cost:
$20,000 base fee + per investor charges (starting price)
Investing Portal Details:
March 18 2021 Update
Coinlist is a cryptocurrency investing platform aimed at investors looking to source tokens that are newly listed. It was started as a crypto initial offering investment portal, but has since grown to facilitate all kinds of crypto based trades.
We originally had Coinlist listed as accepting accredited investors only, but that no longer appears to be the case as during my account creation it did not ask this. CoinList started by facilitating compliance and other technical issues for vetted initial coin offerings (ICOs), or security token offerings (STOs). They have since grown to a full trading system. Coinlist was the platform behind the $257 million Filecoin token sale. Their expansion showcases trading of a large variety of tokens, not just initial offerings.
Trade Crypto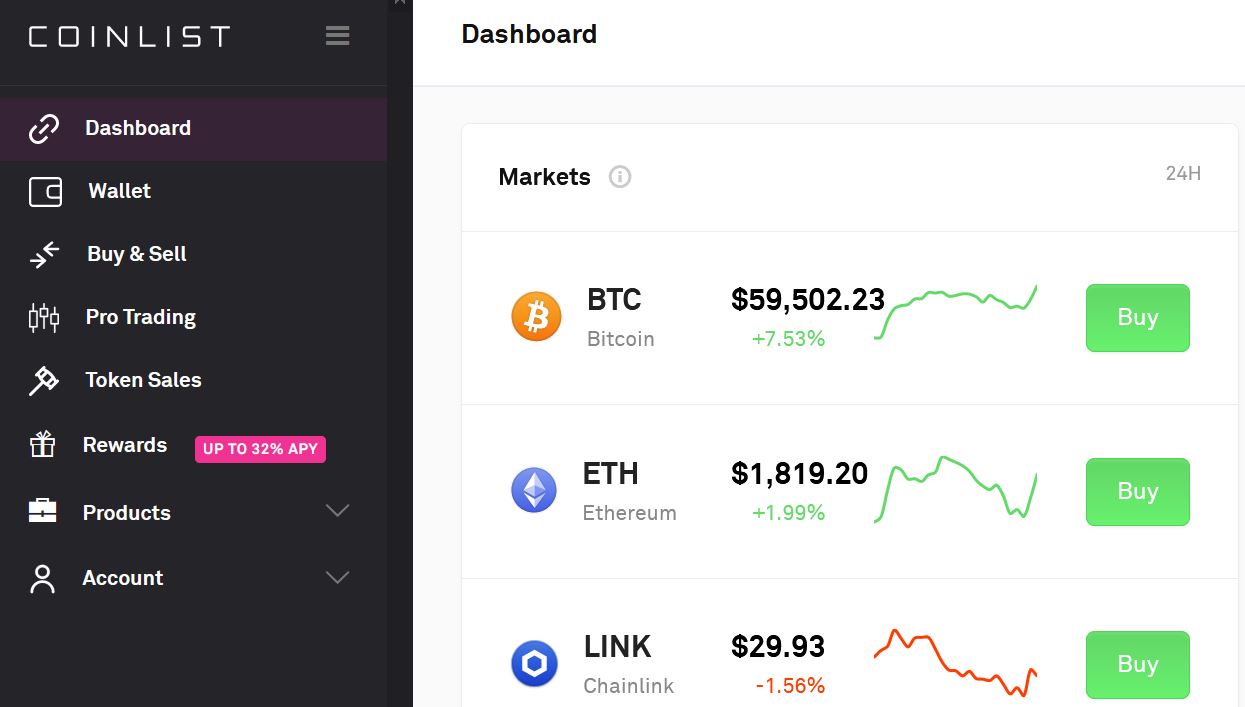 The platform has grown to service the needs of investors and creators after the initial funding event. I had been running my crypto investments and managing these assets on Coinbase while securing them with hardware wallet Ledger thus far. I recently created an account with CoinList so excited to share more about the experience here shortly.
Fee Details
They charge 0.5% per transaction, in the counter asset currency with a minimum fee of $0.25 or the crypto-equivalent. There is also a minimum withdrawal amount and a flat fee to cover the transaction cost of getting your earnings out. Detail on each can be found on their site.
Founders and Creators
If you are a Founder entrepreneur looking to list your coin, Coinlist has built a Token Sale Manager process which helps you adhere to regulatory and compliance challenges like KYC and AML. This solution was formerly called their ComplyAPI.
History
The company was incubated by AngelList and founded in 2017. The funding platform connects startups to investors. It was founded by Graham Jenkin - CEO, Joshua Slayton - previous CTO of AngelList, Brian Tubergen - Chief Product Officer, Paul Menchov, CTO, Andy Bromberg - Advisor and CEO of Eco. Kendrick Nguyen is not showing up as a founder on AngelList but articles have stated he had this role and a transition to Advisor due to his creation of Republic, which he is now the CEO of. Protocol Labs was an integral institution tied to the founding as well.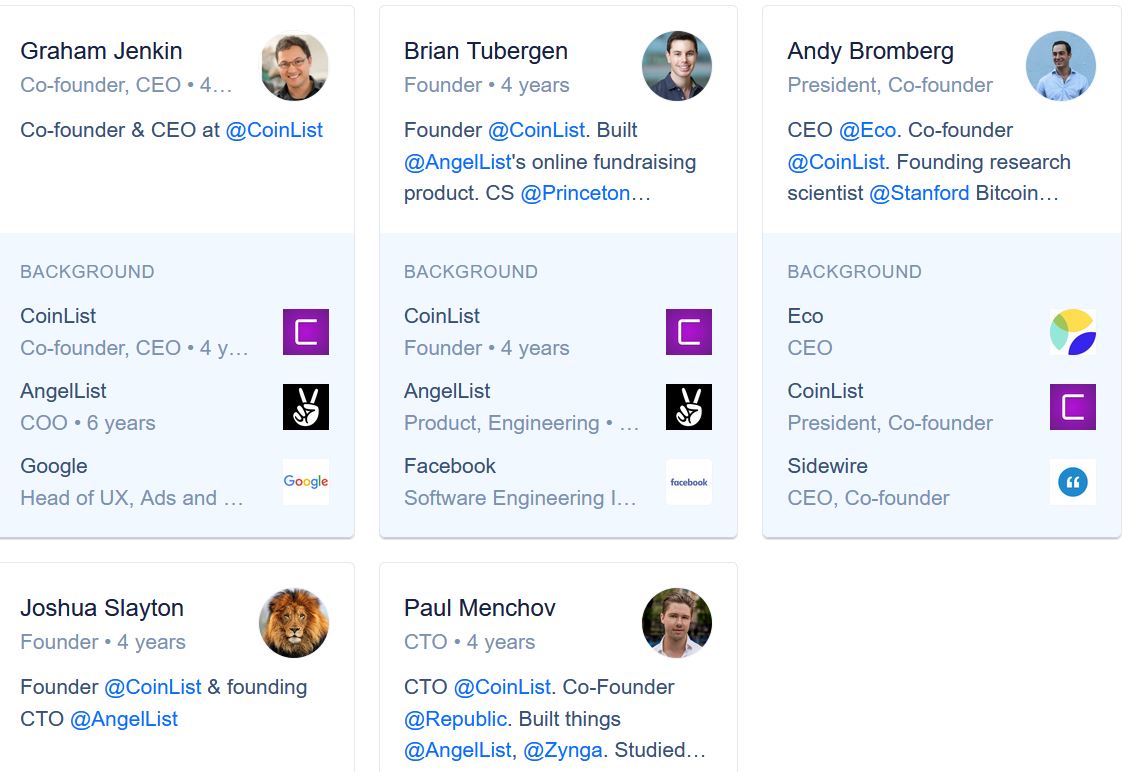 October 30, 2019 $10 million follow on round of capital raised.
October 2019 the announcement was made of the growth into trading.
April 5, 2018 raises $9.2 mil Series A.
August 8th 2017, the FileCoin ICO raised $257M on the platform which turned out to bethe largest ICO ever, at that time.
Late 2016, Protocol Labs planned an ICO for their FileCoin (FIL). Protocol Labs decided to work with AngelList to create CoinList,
Every ICO on the CoinList platform goes through investor checks to comply with Know Your Customer (KYC) and Anti-Money Laundering (AML), anti-terrorist, and confirm all investors are accredited. Investments are done via Simple Agreement for Future Tokens (SAFT) and there are no direct token purchases. Payment could be made in USD, ETH, or BTC. Coinlist published a detailed document on the mechanics of the sale.
Due Diligence:
Token Sale Manager process which we assume should create a high bar to be able to list a project/token. tied to the $20k minimum cost.
Offerings from the same Platform