Fund Logo:

Founder:
AngelList created a platform for angel investors to create funds, Syndicates. AngelList has stated on their site that, they were producing 46% returns. They are revolutionizing seed and venture fund creation by reducing management and overhead fees through this innovative technology.
What is a Syndicate
The Syndicate allows a lead investor to create a fund-like structure to have Backers similar to Limited Partners. An individual can create their own or join others. We wrote an in depth article on how to do this. AngelList also wrote an in depth piece on the economics of Syndicates.
As example a lead can have 40 investors with just one signatory on an investment, which helps keep the cap table clean. The syndicates provide pro-rata rights to invest in subsequent rounds. It packages and aggregates angel money into large bundles making it easier for angels to attain rights they might not otherwise have. Naval Ravikant of AngelList is a successful Syndicate lead and founder himself, @Venture Hacks @Vast @Epinions @Twitter @Heyzap @Uber to name a few. Christian Catalini of MIT Sloan explains syndicates:
Reduced Fees / Cost Savings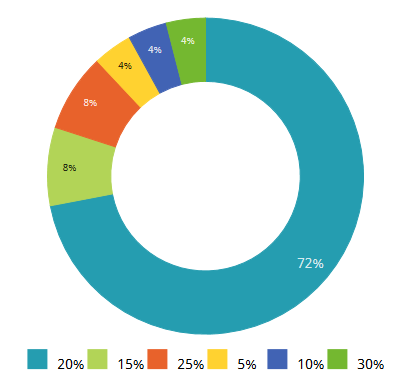 One great benefit Syndicates provide is lower costs or fees. Many syndicate leads are offering lower management and carried interest fees than traditional Venture Capital funds which typically charge a 2% management and 20% carried interest fee. The above chart is a snapshot of fees charged by some of the first syndicates.
The overall trend is that these platforms and technologies being built by Angelist and similar firms are lowering investor costs. One Syndicate had lowered the fee to as low as 5% carried interest, P. Relan Youweb Incubator.
Fixed Fee Upfront to set up a syndicate

$8000 One-time cost prorated across all investors in the syndicate by their investment amount.

For example, if AngelList puts together a syndicate for a $500K investment in a startup, and you put in $50K, you would pay approximately $800 in costs.

These costs are paid to third parties such as state regulatory agencies, payment processors, and accountants. AngelList does not profit from these fees.

Variable fees on Carry

Lead Syndicate investors can choose to take an additional carry of up to 20 %

This means that you as the investor pay out 20% of your gains as a fee some of which goes to the lead investor and some of which goes to Angellist
as can be seen with the above snapshot of the break out of fees (from 2015) many are dropping below the traditional Venture Capital fee ratio of 2% management and 20% Carry
Fee AngelList Charges

5% carry on money brought in for investment through the AngelList platform investors, if you know the LPs there is no charge. This is a recent announcement from the CEO, Avlok Kohli, For new funds and syndicates AngelList is eliminating carry for LPs with whom you have a pre-existing relationship. Existing funds and syndicates will maintain their current carry structure.

Venture Funds

1% fee capped at $25,000 per year, as well as 5% carry on money brought in for investment through the AngelList platform.

Our take on the reduction seen in fees >
Legal
One can have 40 investors with just one signatory on deals.
Provides pro-rata rights to invest in subsequent rounds.
Packages and aggregates angel money into large bundles making it easier for angels to attain rights they might not otherwise have.
Limitations exist for new Limited Partners to start by investing in funds only. It will take time to qualify to be able to invest deal by deal.
Syndicate Growth
As of Oct 2022:
| | | | | |
| --- | --- | --- | --- | --- |
| | 2021 | 2020 | 2019 | 2018 |
| Assets Supported (Assets Under Management (AUM) 2020 and before) | $10B | $2.5B | $1.8B | |
| investments (startups funded 2020 and before) | 11k | 2,698 | 1,657 | 1,133 |
| Angels and VCs leading investments | 800+ | 460 | 335 | 255 |
| % of top-tier U.S. VC deals are in the portfolio | 57 | 36 | 28 | |
investments in 43 countries in 2020
Data for 2021 and 2020 review
Before 2015
Available Index Funds Instant Diversification and exposure across multiple sectors, stages and geographies. One investment gets you exposure to 200+ investments.offers access to hundreds of individual deals all vetted by AngelList; the minimum investment is $100,000.
Launching an AngelList Syndicate
Syndicates make the process of launching a fund much easier improving economic fundamentals of indirect venture investing through structured securities. Typically a large weight is placed a fund manager's past performance and investment thesis, but with AngelList Syndicates we are seeing a larger emphasis placed on social connectivity. Tim Ferris is a great example of this. Past performance doesn't guarantee future results, but it does help prove your credibility. A good investment thesis describes how you will source deals and how you will make decisions on which to investments to make, in a way that is compelling to your prospective limited partner or backer. We provide several resources for starting angel investing and building funds in order to get limited partners or backers to put their money in with you.
The work involved is in sourcing deals, doing diligence, supporting investments, and marketing to potential limited partners or backers. It is not necessary to be a full-time Venture Capitalist, but it requires asking people to entrust their money with a lead in an illiquid asset for a period of several years.
Setting up your Syndicate
AngelList makes setting up a syndicate very easy. Go to your profile and open the Syndicate tab. You'll need to fill in some basic information for your backers, which they will use to decide whether they want to back you. Use the field labeled note to backers to quickly describe your thesis. Once the Syndicate is set up establish connections and co-investors.
More help and education from AngelList >
Do you agree syndicates are improving the economics of venture finance? We want to hear from you.
Analyze Returns and Performance