Raising Status:
Partial Funding
Screenshot from Platform: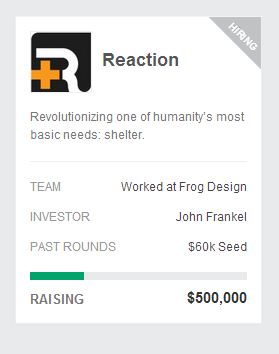 Bio:
Hardware & software to (re)meet 
a basic human need: shelter. Our initial product is the Exo Housing System – a smart, highly portable sheltering system that is light enough to be moved by hand and packs more connectivity than a modern home. The ecosystem is comprised of several products including the innovative Exo shelter unit, which is the foundational component of the system. Each Exo flats packs for extremely efficient transportation/storage and can be setup in under 2 minutes without the need for any tools or heavy machinery. In addition to the Exo, we also offer Populous, our inventory & asset management system. Each Exo has embedded wireless tech to allow real time reporting and system control to the Populous app. Populous allows customers to manage a single deployment or the entire inventory. Reaction is so disruptive that has not only gotten the attention of FEMA, NASA, and Apple but we have visited all of them by invitation.
Founder Picture:
Analyze Returns and Performance
Improve your investment decision with real-time market analysis. The latest artificial intelligence, data visualization, machine learning, financial modeling, and predictive analytics solutions to understand trends, sector performance, etc.
| Provider | Summary | Starting Monthly Price |
| --- | --- | --- |
| | Fund and company financial performance and analysis. CB Insights offers insights through a private company financing and angel investment database.… | $4558.00 |
| | Known for detailed deal terms and VC vitals. Gain insight from VC, PE and M&A data with the PitchBook Platform. Based in Seattle, PitchBook was… | $1500.00 |
| | Full global coverage of company fundamentals in all international geographies with data from 50k+ global tickers on all major exchanges. Find… | $150.00 |