Screenshot from Platform: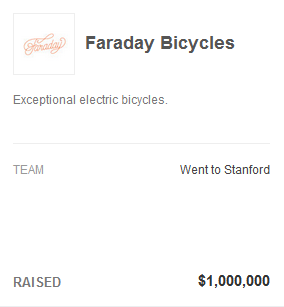 Bio:
Faraday Bicycles creates exceptional electric bicycles. Our flagship product - the award-winning Faraday Porteur - is not only the best-looking electric bicycle in the world, but also one of the lightest. At less than 40 pounds, with an assisted range of 20 miles and a sweat-free cruising speed of 20 mph, the Porteur is an effective car alternative for short-range transportation.
Investment Details:
Crunchbase states amount raised at $177,300
AngelList stated in the past amount raised of,
177.3#sthash.nOJFWMfS.dpuf
Founder Picture:
Analyze Returns and Performance
Improve your investment decision with real-time market analysis. The latest artificial intelligence, data visualization, machine learning, financial modeling, and predictive analytics solutions to understand trends, sector performance, etc.
| Provider | Summary | Starting Monthly Price |
| --- | --- | --- |
| | Fund and company financial performance and analysis. CB Insights offers insights through a private company financing and angel investment database.… | $4558.00 |
| | Known for detailed deal terms and VC vitals. Gain insight from VC, PE and M&A data with the PitchBook Platform. Based in Seattle, PitchBook was… | $1500.00 |
| | Full global coverage of company fundamentals in all international geographies with data from 50k+ global tickers on all major exchanges. Find… | $150.00 |