January 2021 - I recently went through this article to clean up the broken links and images. I now work at Adobe so am humored by my take on the industry and product direction.
Omniture/Adobe Summit 2010 was an impressive conference, incredibly entertaining and informative, marking the best conference I have ever attended. At this time I attended at least 4 of these yearly events. Omniture/Adobe managed to somehow outdo themselves by improving the production value from my time the year before, 2009.
Keynotes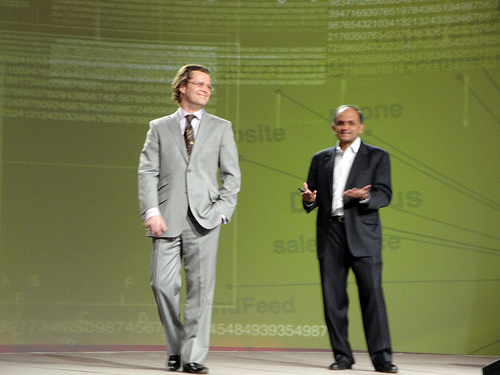 The summit had some great content and incredible keynotes. Experts shared insights and experiences on stage. Josh James, CEO of Omniture's keynote delivered the same enthusiasm as it has years past. CEO, Shantanu Narayen, CTO, Kevin Lynch, as well as founder, John Warnock, were all making public appearances at the event. Hearing keynotes from the CEO and the CTO helped establish Adobe's commitment to the newly acquired technology. I was impressed with the mobile stats presented by Alan Rimmer - Senior VP from RIM. One particular claim of his stood out, 'In 2014 smart phone sales will overtake PC/Notebooks.' More emphasis on mobile efforts and analysis is needed for many, including myself. CMO.com had content that I previously linked to that no longer exists on the site.
Breakouts
The breakout sessions provided some educational information on power use of the Omniture product suite. These sessions provided some compelling case studies that showed true optimization. The key takeaway I found for SiteCatatlyst use was audience segmentation for optimization through engagement scoring. A percent of page viewed plug-in was presented that seemed insightful. This can ideally provide assistance with working on content below the fold. There were case studies from Salesforce.com integration which opened up a desire to tie in existing CRM systems to SiteCatalyst. There was an article detailing this on the Omniture.com site that no longer exists. This comes from a desire to acquire the customer information for improved analysis. Pokens were distributed for sharing contact information. Hopefully these devices will catch on to avoid the monotony of transcribing business cards. I previously linked to the Poken.com site but it no longer exists as the technology and company died.
Products
I was disappointed with Omniture's emphasis on the Discover and Insight products. I would have like to have seen more talk of instant segmentation for SiteCatalyst to rival Google Analytics. There was heavy emphasis on Test and Target, a tool that seems to be a very effective add-on to the analysis capabililties to invoke action. I had a chance to sit with Cameron Cowan a Product Manager for Search Center and am impressed with the product capabilities and have begun to socialize at Kaspersky. Another helpful note, Omniture consulting teams were available to discuss implementation and integration strategy, one of the only times they will do this at no cost.
External Events
Web Analytics Wednesday was held Tuesday at a nearby Red Lion's Sky Bar. This event was well positioned providing a great networking opportunity between summit events. This provided great views and industry veterans such as, the voice of the Omniture community, Ben Gaines, Eric Peterson, folks from Semphonic and Stratigent, Bill Gassman, from Gartner, just to name a few.
What is Next
This conference was the best industry event I have ever attended and look to continue to be able to attend. It provided direct paths for improvement of business intelligence and a continually expanding footprint of solutions. I would consider it a pinnacle event for enterprise web analytics and suggest it to anyone I connect with.
Stories from others I admire that attended:
http://www.beyondwebanalytics.com/2010/03/07/episode-11-omniture-summit-2010-recap/
Endress Analytics had a 2 article review, and Fuel Interactive also had an article that neither exist still.