"You're not going to get rich renting out your time. You must own equity - a piece of a business - to gain your financial freedom." Naval Ravikant
For most of us investing in startup companies presents a challenge. The JOBS Act didn't democratize access to these exciting investments as promised. Several platforms have been built and are slowly improving access, but the overall market is tiny and challenges are abundant. Our research to rank the platforms may surprise you.
At Fund Wisdom, we provide market insights so that investors, fund managers, entrepreneurs, and analysts can make informed decisions, accessing the best opportunities available. We have found that collecting and analyzing data in this space presents some unique challenges, unlike public equities that have solutions like Bloomberg, MarketXLS and independent analysis like Motley Fool. My goal is to share the research and data behind our ranking system of top equity funding portals on a regular basis. Any feedback in the comments or direct contact will go into the next ranked list we produce to continually improve.
Equity Investing Portal Market
According to research from PitchBook, in 2018 US Venture Capital reached $130.9 billion, and 2017 was $84 billion. While in all of the Americas equity crowdfunding is only 0.3 percent of that number according to the University of Cambridge's Center for Alternate Finance. The Center produces a report on equity based funding and shares in 2017 $260.9 million was funded in the Americas.
Accredited Investing Portals and "Equity Crowdfunding"
If you're one of the 92 percent of the US population that is not an "accredited investor" and you look to invest in exciting new companies it may not be clear where to start and how to get involved. In a world of swirling stories of spectacular successes (and failures), a myriad of new investing portals, and a constantly changing landscape, it's not always clear where to go and who to trust.
Investing portals started out by serving only accredited investors. Equitynet was founded in 2005 and not long after rewards-based crowdfunding grew in popularity. Kickstarter was founded in 2009 and not long after dozens of equity-focused investing platforms started to appear. AngelList was founded in 2010 and Wefunder in 2011, as a few examples. The creation of Title III in the JOBS Act, in 2016, helped to provide access for non-accredited individuals to invest in a small set of offerings. The list of unaccredited portals and listings has since grown, so we break out our rank for accredited investing portals and non accredited regulated equity crowdfunding portals.
How We Built the List
The US SEC EDGAR database provides a centralized resource for public filing information. It provides transparency but the data is not quality controlled or organized, and no public government-funded reporting system currently exists. We built a database that provides information on how much money is moving through today's equity portals and built a dashboard to showcase the live data. More information on how we built it.
Top 10
We break our ranking out into 2 sections those focused on wealthy, accredited investors, and those that are focused on average retail investors that are not wealthy enough to qualify as an "accredited investor." We look to rank based upon data in order to be less subjective than the other lists we have read. We will continue to add factors to this list as we test input and feedback like our 5 star system.
Unaccredited Equity Crowdfunding Portals
What are the largest equity portals based on actually funded campaigns and equity crowdfunding statistics in 2018? The table below ranks the top 10 unaccredited equity crowdfunding portals based on campaigns funded in 2018.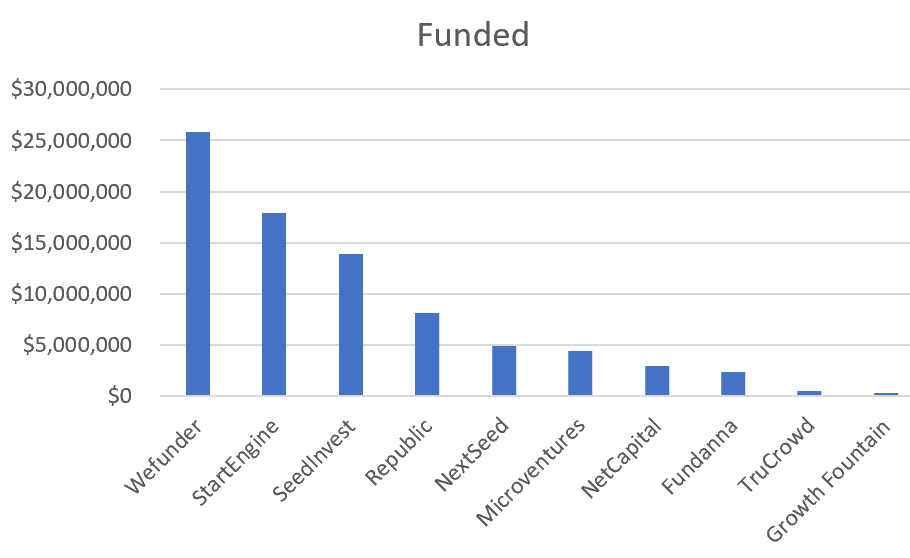 | | |
| --- | --- |
| Portal | 2018 Funded |
| | $25,800,000 |
| | $17,900,000 |
| | $13,900,000 |
| | $8,100,000 |
| | $4,900,000 |
| | $4,400,000 |
| | $2,900,000 |
| | $2,300,000 |
| | $500,000 |
| | $300,000 |
| | |
| Total: | $81,000,000 |
In 2018, the top three portals combined for 71 percent of the total funded by all portals, with Wefunder and StartEngine combined for just over half (at 54 percent) of the total, and Wefunder alone responsible for 32 percent of the market.
Note that the total amount raised ($81 million) in 2018 is close to the estimate provided by StartEngine in their publications about industry volumes, and it also corresponds to the industry data publicized by Crowdfund Capital Advisors. The commonality between the three sources gives us confidence that our data is, at least, roughly accurate. Also, for those wondering why some large and well-known portals like Fundable (which claims to have raised just over $500 million since they launched) are absent from this list, we remind you that we're focused on the non-accredited market, and Fundable admits only accredited investors.
Some portals hold funds in escrow during the funding process and may ultimately return funds to investors for several reasons. For this analysis, we look at assets raised for funded projects through online portals available to all investors.
Sherwood Neiss of Crowd Capital Advisors did a great review mid-way through 2018 of the industry and top providers along with Venture Beat. This is particularly useful as he breaks down the number of deals funded and the success rate.
2019
| | |
| --- | --- |
| Portal | 2019 Funded |
| | $9,900,000 |
| | $5,600,000 |
| | $3,100,000 |
| | $2,200,000 |
| | $1,700,000 |
| | $800,000 |
| | $400,000 |
| | $300,000 |
| | $200,000 |
| | $0 |
| | |
| Total: | $24,200,000 |
The first three months of 2019 have a similar ranking, with Wefunder and StartEngine in the top two slots, but Republic has risen to third while SeedInvest has fallen to 5th. Volumes are up year-on-year however, with a little over $21 million raised in the first quarter of 2018 versus just over $24million in 2019. Should the higher volumes continue, 2019 could see non-accredited equity investment top $100million. We are building a dashboard to view this analysis on a quarterly basis and review further break outs of information we collect.
Accredited Equity Investing Portals
2019
It is no longer possible to publicly access accredited investing offerings through portals as was historically possible. We were able to collect data across a broad set of platforms when this was the case so ranking these objectively becomes a challenge.
Historical
Below is a table we built in 2015 to review accredited only funding portals, prior to Title III of the JOBS Act getting passed. Note though that this data is guiding but cannot be relied upon due to issues we detail in the report.

We share this detailed analysis from 2014 - 2015 because at the time the information on funding rounds was much easier to gather as it was mostly public. We collected performance data across accredited focused portals.
There are a number of challenges we faced trying to summarize funds raised by accredited equity portals. For example, money can be raised outside of the portal, but over time many portals referenced the entire round raised by the business, not just what was transacted online through the platform. We look to measure the impact the platform has on the investment process and separate that from traditional funding channels. We showcase a few examples below from our dashboard:
External Ranks Referenced
Another area we're providing further insights into is the investment funds or syndicates established by portals and the effects they have on the market. We're working to uncover additional data to improve our accredited investment portal rank soon.
Evolution of the Rankings
In the chart below, we plotted the percent market share that each platform held each month for the last 15 months (the 12 months of 2018 and the first three months of 2019).

Wefunder maintained a commanding lead, only raising less than StartEngine in November and January of 2018. Wefunder commands a large presence in the market. SeedInvest looks to have steadily lost market share, beginning in the second half of 2018. That share seems to have been taken up by StartEngine and, to a lesser extent, by Republic.
Perhaps the anticipation of the merger of SeedInvest and Circle is responsible for Seedinvest's lost market share. Circle is one of the leading cryptocurrency firms. There is a possibility that once merged, the combined entities will have greater reach in both of their specialties, creating a true synergy. That has yet to be realized. Reportedly, SeedInvest will remain (at least for the time being) a separate entity focused on raising capital, presumably adding opportunities in the cryptocurrency space in time. However, mergers often have unexpected consequences, both good and bad.
The equity crowdfunding market has been, and remains, dominated by Wefunder, StartEngine, and SeedInvest, with the three combining for just over 70 percent of the market in both 2018 and the first quarter of 2019. For non-accredited investors looking to buy equity, these are the portals with the volume, but that doesn't necessarily mean value.
Innovative Startup Investing 2019 and Beyond
"Three things cannot long be hidden: the sun, the moon, the truth" Paraphrasing of Buddha (Gradual Sayings, Volume I)
In the US the JOBS Act fell short of democratizing access to startup investments, but it created opportunities for a small set of individuals looking to capitalize on the potential startup companies can unlock. The creation of cryptocurrency and companies that are building a network through blockchain technology offering a form of equity in coins have seen a far greater flow of capital. Many of the equity focused portals are offering crypto and several, like Coinlist, are specializing in Security Token Offerings. While the set of investments for non-accredited investors is currently small.
We'll keep you updated on both the evolution of the overall equity crowdfunding market and our work to improve the data, find insights, and make startup equity investing more accessible. In the meantime let us know what you think in the comments below or contact us direct.