Do you remember when Bitcoin was priced under $70 and you bought some beer and pizza instead? I do. But as good as the artisanal cheese and pepperoni tasted at that moment, I would prefer the $43,193 that one coin is worth today (March 1, 2022).
It was a scorching summer day in 2013, when my co-worker, Mike and I went across the street to grab a cold beer and pizza. We talked about the Tableau initial public offering and the frustration we felt from not being able invest before its value rose to $31 in the IPO. As our ice cold beers arrived, our thoughts turned to the the Satoshi whitepaper and the potential of Bitcoin and applications of blockchain technology. We were excited about the benefits we were seeing from international transactions and hedging against national monetary policy. Mike shared that he had purchased Bitcoin, and was reeling from the volatility and losses he was dealing with. At that time he was on the verge of selling. By the time we finished our fancy pizza I had decided the stress this caused him was enough to keep me from making an investment myself.
Finding the next Bitcoin
While hindsight is always 20/20, hope is not lost. New coins are being launched through secure token offerings (STOs) for us to get in early, before the pop. I want to find the next Bitcoin on the day it launches and ride the crest to pay my kids' college tuition. Maybe it will work out, and maybe not. I know I will learn a think or two along the way and hopefully have a good story to tell later.
My go to place to find cryptocurrencies as they launch is CoinList. As the founder of Fund Wisdom, I have researched where companies are launching and offering their equity for sale typically in their seed stages, years before they IPO. The team and I review funding rounds on platforms like AngelList. As AngelList grew one of their early employees broke off to create CoinList. It was first marketed as the place to go for STOs to help with the regulatory burden. So I will walk you through my use of CoinList to buy a coin.
How to make the investment
The first step is to create an account on CoinList.com. Then find the Token Sale section in the main navigation. I first want to review what is available to find that diamond in the rough. New crypto offerings appear to launch on an hourly basis. You can see the list of thousands on CoinMarketCap. The volume of offerings can feel overwhelming. Instead of needing to go through each I like CoinList because they curate who they work with and have a solid footprint in the crypto community. They vet and accept a small list of teams to help launch via their Seed program, with demo days and hackathons.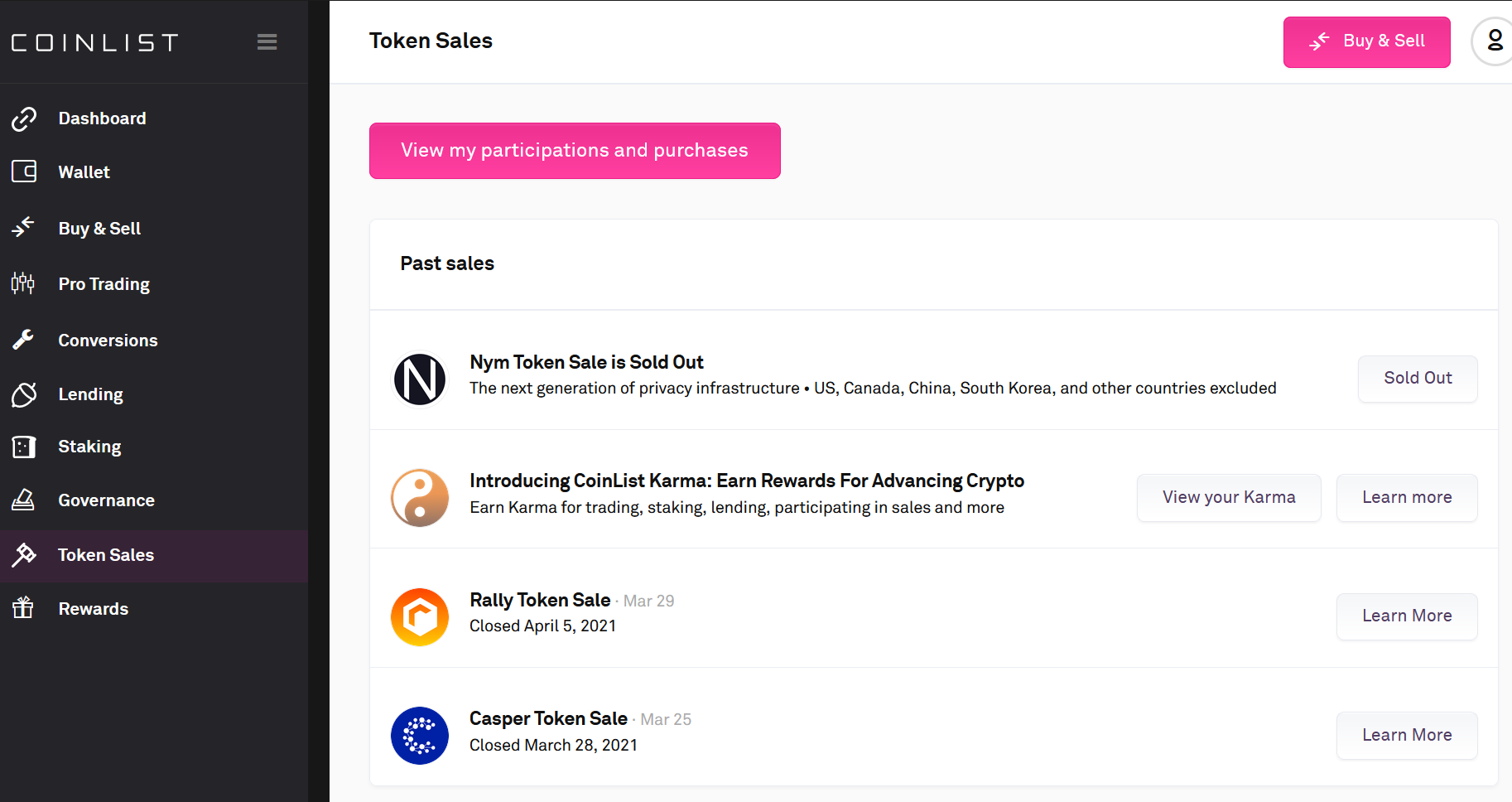 As I write this in early March 2022, CoinList shows nothing available in the initial launch stage. The NYM token sale is all sold out. Rally and Casper appear to be a year past launch. If I try to click to "Learn more" about each I am greeted with an error message: "Sorry, this content is not available in your location."
Due Diligence
Undeterred, I run a web search for "Rally token." Results show that it was created to allow non-technical creators to launch their own digital economies, or tokens.
Most people I talk to view cryptocurrencies as place to trade with short term windows as to the potential gains the volatility brings. There are cryptocurrencies that are expanding use cases to many different sectors, adding value and innovation. When I assess the potential value of a token investment I dive into the details of the project plan, the team, and the use case, or market.
After reviewing the details, I think Rally looks legit, so I decide to invest. When I realize that Coinlist requires a $10 fee to withdraw my money I re-think where I am going to actually execute the trade. I already have a Coinbase account. I run another web search on "Coinbase fees" and find they are known to have high fees as well. I choose to use Coinbase because most of my other previous crypto purchases were made there. My investment had a $2.99 trade fee to buy $100 of Rally tokens.
Securing the investment
I keep my cryptocurrency secure with a hardware wallet. Most trading platforms offer digital wallets as storage, but to increase security and lower the potential of theft, I bought the Ledger Nano X hardware wallet. I wrote a separate article on it.
Can't pick one? Try a fund
If you don't feel like you can pick a winner, or don't want to do the research, but want exposure to the asset class, funds can provide a great alternative. We have been following a few funds that focus on crypto for your consideration. I have yet to invest in one of these myself yet as I prefer to go direct, to avoid any fees the fund may carry.
Let's learn from each other
Do you want to put your lunch money toward an investment instead? If so, you can follow the steps I took or go your own route and make your own picks. If you end up investing, tell me your story in the comments section below.
I am not a registered financial advisor, so consult with one.