Where do you rank against other digital experience professionals and how can that affect how much you get paid?
Throughout my digital marketing career the key to my progress was establishing a benchmark and clear goals upon starting with a new team. There are several maturity models available to measure your progress. The results of how this changes over time can be brought to your check ins, or year end reviews, to help you secure that raise or bonus.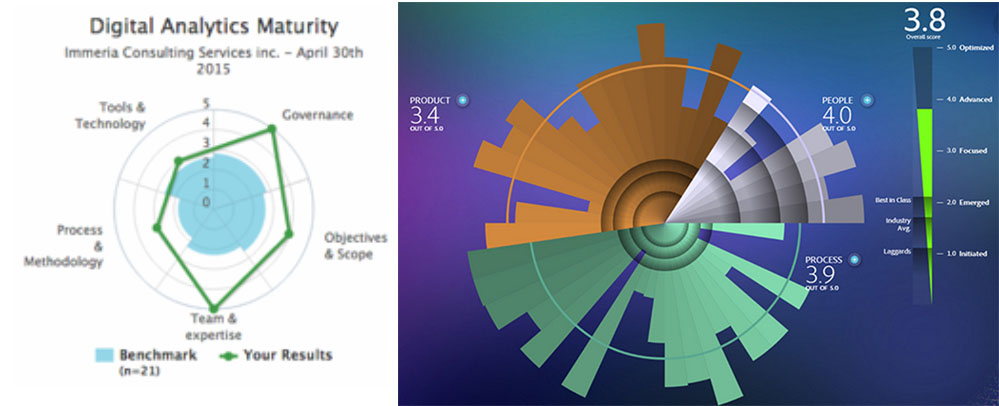 Maturity Models
In order to assess digital performance a benchmark is necessary. Digital experience maturity models are used as auditing mechanisms, defining strategic pillars of your web or digital practice. They are integral for building, benchmarking, and improving digital strategies.
Stéphane Hamel has performed extensive research around this topic and who I believe has one of the best models. One can perform the analysis and produce the visual results using his model through Stéphane's site.
The models help to visualize where an organization is at present and set goals for the future. One can walk through a set of introspective questions whose results can be mapped to create a visual output that helps to easily communicate maturity. Michael Notte, author of Kaizen Analytics and Web analyst at a major European bank, provides examples of how to accomplish this task with Stéphane's Maturity Model.
The benefit of this analysis is the creation of standardized levels of maturity. The model itself provides an efficient way to communicate results of the audit.
an updated view on Digital Maturity from David Ratajczak of BCG
My Take
Notes on the levels:
0 - out of the box tools & reports, lacking formal training, ad hoc reporting
1 - Resources Limited, Starting to Streamline, Reports stop at director level, Limited optimization, Success anecdotal
2 - KPIs defined, Multidisciplinary team in place, Competitive data, Voice of customer, Social media, Mobile, Multivariate testing, Optimizations - channel, Personas defined
3 - Online and offline correlations, Optimization - complete processes, Persuasion scenarios (waiting definition), Continuous improvement/optimization process
4 - One or more executive advocates analytics, Predictive modeling, complex optimization techniques, analytics across multiple business units/functions
5 - Strategic insight, Continuous improvement,Skilled resources, Top management, commitment, Fully integrated Testing + learning, Omnichannel
| | | | | | |
| --- | --- | --- | --- | --- | --- |
| Type | Level 0 | Level 1 | Level 2 | Level 3 | Level 4 |
| Champion | None | Project Manager | Director | Senior management | CXOs |
| Distribution | None | Beginning | Within team | Across departments | Entirety of organization |
| Goals | Undefined | Task list | Online channel | Business optimization | Organization optimization |
| Scope | Ad Hoc | HiPPO | Refined to sector | 1 online property | Business ecosystem |
| Resources | None dedicated | 1 part time | 1 full time | A team dedicated | Multidisciplinary team |
| Methodology | None | individual, Internal | Created by team | Internal - External | Agile |
| Tools | No Analytics | Out of Box | Custom Dashboards, Testing | Segmentation, Alerts/notifications | Omni-channel, connected to bottom line, predictive analytics |
Compensation
I was lucky enough to have a leadership role in a team building the Digital Analytics Association Compensation Scan. My work with the Digital Analytics Association (DAA), formerly known as the Web Analytics Association (WAA), allowed our team to release an info-graphic that provides a breakdown of digital analytics professionals' salaries across the US.
The data for this was drawn from actual job placements and was provided by Corry Prohen's IQWorkforce. On the DAA research committee team we analyzed the data to produce a report to help professionals in the industry understand their value. Casper Blicher Olsen of Gorm Larsen & Zoring did a wonderful job of turning the data into a beautiful visual infographic. I must also thank Amanda Watlington of her guidance and mentorship in the research committee. She helped me to become more involved and connected me with all the right people.

I found this research to be incredibly valuable to my personal career and I hope other analysts will find the same success with this revealing report. The project, through the DAA, yielded great insights into the career tracks of digital analysts around the country and it will allow all analysts to determine if they're in the right place.
According to the research, Atlanta, GA is the best city for digital analysts to live and work in when comparing both salary and the cost of living. San Francisco, CA has the highest salaries on average, but the cost of living knocks it out of the top five best cities for digital analysts. The lowest salary area is Salt Lake City, UT and the high cost of living puts New York, NY in last place for digital analysts to call home.
About the Digital Analytics Association (DAA):
The DAA is a not-for-profit, volunteer-powered association that helps members like Adobe, Expedia, SAS and Yahoo! become more valuable through education, community, research and advocacy. The DAA was founded as the Web Analytics Association in 2004. The organization has more than 2000 members worldwide, representing 40 countries and a broad spectrum of expertise.
I highly encourage anyone interested in the industry to join and get involved. It gave me the opportunity to meet wonderfully talented people that have helped advance my career and compensation. For more information about the DAA, or to become a member, visit the DAA website at: www.digitalanalyticsassociation.org.