Are you interested in a rental property investment but don't quite have enough cash to afford a down payment? Do you have $20? There is a growing number of real estate crowdfunding platforms that allow anyone to access the recurring revenue stream of real estate rentals. I wrote a piece on some of the top equity and debt based real estate investing platforms. These investing portals provide a convenient and accessible way to invest in real estate. This can be great for those of us who may not have the resources or expertise to invest in traditional real estate directly, but want the diversification. I will try out Ark7 and give you my take as it relates to some of the other options out there, and my experience investing with them. 
Investing Using Ark7
Personally I am focused more on startup business investing platforms, but the affiliate relationship we setup attracted me to learn more. The team has been helpful in taking care to cultivate the network of affiliate relationships, which I greatly appreciate as I begin my journey newly partnering with them and others. 
Ark7 buys properties using cash or financing in order to list them for you and I to purchase shares of. Let's begin the process to build an account to make our first investment.  
Setting up an Account
First I went to the Ark7 website and created an account. Note they ask for your Social Security Number to comply with Know Your Customer (KYC) regulations. I try to not give out my SSN, but the request has been standard on each of the platforms I have signed up for so far. 
Image: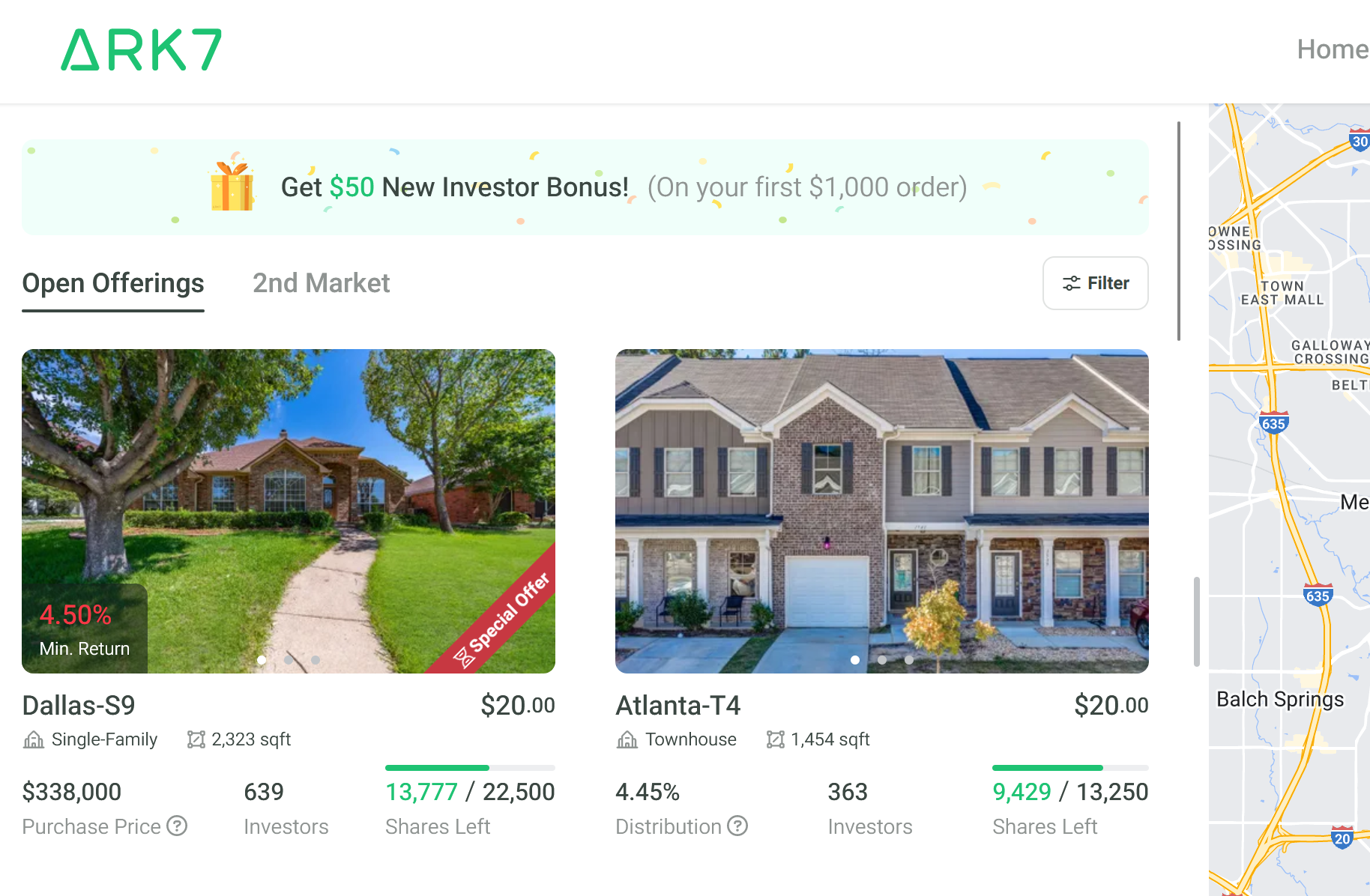 The company has several single-family and multi-family rental properties in several cities in the U.S. at the time of writing this article. The inventory covers a number of properties in the southern US region. It appears I can access more by activating Ark7+. This appealed to me as I currently (and have always) live in the northeast.  I always try to look for informational advantages, like knowledge of the region investing in.  I went through the process to register as an Ark7 plus user. It appears to be for accredited investors only, so I went ahead and filled out my info. They had a few options to prove your status. I chose to share a comfort letter from my CPA. That process looks like it requires human review so I await the 5 day period. In the meantime I will continue as a non-accredited investor to place my first investment. 
Select Investment Property
So I selected the single family home in Dallas. Ark7 states they will guarantee the 4.5% rate for the first year, which is pretty much on par with most money market accounts at the time of this writing. The Fed Funds rate is 5.25%.  
Image:

It appears the required hold period is only 3 months for this property Ark7 states it manages 95% of the properties on its platform. 
Fees
For this property $511 per month is going to the management and $227 is set aside for repairs. So out of the $3300 collected in rent $738 are fees Ark7 is collecting, or 22%. That provides me some assurance the property will be maintained, to retain the value over the years where I personally do not need to be anywhere near the property to deal with any of the maintenance. Also note that there is a 3% sourcing fee on the initial purchase value. 
Complete the Transaction
I connected to my bank using the Plaid connector. I then had to add the funds to the account to enable the purchase. Upon clicking buy it takes me to a 10 page legal agreement that spells out the structure of the JTDXY Security where I am able to digitally sign in the same workflow. I was multi-tasking while going through the entire process, but it was relatively fast to transact. I got logged out two times from calls with co-workers, but was able to pick right back up where I had left off.
Image:
Risk Considerations
Ark7, like any investment, carries risk. It's important to carefully evaluate the factors that could cause the investment to not pan out. Investing through the Ark7 means that you have limited control over the selection and management of the property. I understand I am giving up a level of control and decision-making power. Ark7 states it manages 95% of the properties on its platform. Ark7 serves as manager to Ark7 Properties LLC and Ark7 Properties Plus LLC. I am not sure how to access the process followed by the property manager to compare to others in the efficiency of the operation.  
Ark7 is an SEC-qualified platform. The work they have done to register with the SEC helps to lower the potential risk. This status brings a level of credibility to the platform.
Online platforms like Ark7 may not offer personalized financial advice tailored to your specific circumstances. If you require personalized investment guidance, it's advisable to consult with a financial advisor.
Check It Out - We Want to Hear From You
I think the service is innovative and this market will continue to grow. Let me know if you are interested to learn about the accredited version. Check out the Ark7 website and let us know your experience with the platform or if you have any further comments or questions in the comment section below or with our contact form.