This is an ongoing series of reviews. Reviews from years: 2019, 2022
Are you looking to select the right equity funding platform to raise money for your idea or business, or are you looking to invest? I will run through the data and insights on the overall market to help you maximize your ability to secure funding or find the right investment portal for you. Many of us believed we would see explosive growth in equity crowdfunding. At Fund Wisdom our thesis was built on the belief that there was pent up demand for access to high yielding startup investments. I break down the market, how the industry has re-define early-stage startup investing and funding. and where future opportunity lies.
Many had proposed raising the cap the SEC placed on businesses raising money through regulation crowdfunding to above the maximum of $1,070,000 and the call has been answered. The SEC Proposed Rule Changes to Harmonize, Simplify and Improve the Exempt Offering Framework across each of the major regulated categories with regulation CF to $5 million, A to $22.5 million, Reg D 504 to $10 million.
Photo by
Jeff Tumale
on
Unsplash
Defining the Equity Crowdfunding Market
If you're starting a business and need money upfront the traditional way to do this was to go to a bank, venture capital firms, or use your own money. Websites and digital platforms help facilitate the transactions now. Equity Crowdfunding in the US can be separated into two major types accredited and non-accredited.
Non-accredited is also known as Regulated Equity Crowdfunding, campaigns that were launched under new regulations like Title III of the Jobs Act (aka Reg CF). Historically only accredited investors, or wealthy people defined by the SEC were able to invest in businesses offering shares at an early stage, outside of friends and family. This limited opportunities for those who were not wealthy enough to qualify. 
Market Size
According to research from PitchBook, in 2018 US Venture Capital reached $130.9 billion whereas non-accredited Regulated Equity Crowdfunding is only 0.08 percent of that at $109.3 million according to CrowdFund Capital Advisors via VentureBeat. The accredited portal market is much more challenging to put a broad number to due to the listings no longer being publicly accessible they were back in 2014. The University of Cambridge's Center for Alternative Finance publishes a report stating about 0.3 percent of VC was funded through portals in 2017 at $260.9 million. They do not break out the two types via accredited and non, and rely upon self reporting by the platforms.       
At Fund Wisdom we have been working on Research on investment insights across accredited and non accredited data, we have used this to build our rank for the top 10 portals, and our Dashboard in its early stages. We have been focused on the Americas thus far but have compiled a list of platforms across the globe. 
Regulated Non Accredited Equity Funding
Image:
Image:
CrowdFund Capital Advisors have been publishing the most comprehensive reviews I have found of the Americas regulated market, with the VentureBeat article being a great example. 
We have observed some discrepancies in every report we have found for the same time frames. For instance StartEngine regularly provides reviews of the industry and their performance. In this case 2018 data listed was at $75.8 million total differs from CrowdCapital team of $109 mil. This is likely due to the quality of data coming from the SEC posing challenges. We showcase a breakdown of a few sources we have found.
Image:
The US SEC has added Equity Funding Portal filings to the EDGAR online filing database. The SEC site now has section built for equity funding portals and different Regulation funding offerings like D and A+.
Accredited Investor Portals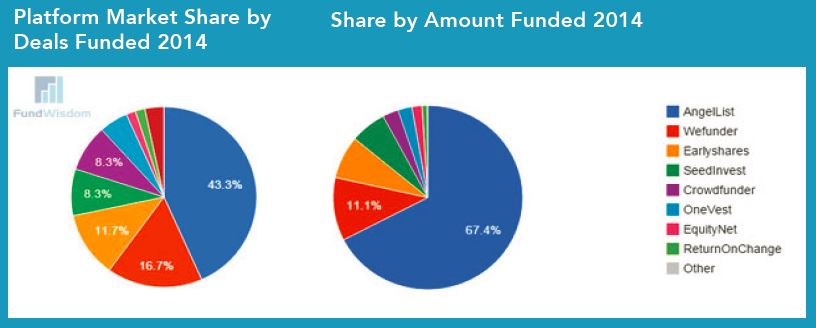 Most Accredited portals do not provide public listings as they once did so gathering this data has become very challenging. We built a detailed report of data back in 2015 that provided a detailed view of the how the industry began prior to non-accredited investing being possible. Around the time frame we released the report the accredited focused platforms began moving their equity listings, that had been public, behind a login. The login requires accredited investor verification. Ty Danco' wrote a piece on the Benefits to using AngelList.
Who is Achieving Success 
Sherwood Neiss of CrowdCapital Advisors states "Unlike venture capital, where less than 6.5 percent of startups successfully raise funds, the success rate in Regulation Crowdfunding hovers around an impressive 60 percent." 
Industries 
Some sectors have been greater affected by these financial innovations. The real estate and restaurant industries have seen some great success raising capital. CrowdCapital Advisors team put a great report on the restaurants.
Entrepreneurs Raise Capital
At Fund Wisdom we have focused our efforts on the investor side of the equity funding portal industry while Crowdcrux has focused on helping entrepreneurs raise funds. Crowdrux produces powerful material to those looking for funding across the various types of crowdfunding like rewards based sites like Kickstarter, not just equity. The total number of people raising money via equity portals is dwarfed by the other categories, but it unlocks the greatest potential for both sides of the market, the funder and the inventor. Below are a few resources to help in this process:
Capitalize
We have observed continual growth in the US Equity Crowdfunding market. This has allowed for entrepreneurs to more easily get funding, and investors to gain access to new ventures that were previously off limits. The recent adjustment of raising the cap for Reg CF to $5 million from $1 million will definitely help with that. Opportunities will increase as regulation continues to open. More investing portals will be built and ancillary services will continue to be developed to improve the fund raising process.  
Have you been able to invest or raise money through these portals? Let us know what you think in the comments below.